Hawaiian Lomi Lomi Massage

 Lomi Lomi is a beautiful healing art from the islands of Hawaii.
Sacred Lomi offers Hawaii Retreats, Workshops, DVDs, Home Study and Hawaiian Intention Cards in the art of Hawaiian Lomi Lomi Massage and personal transformation. Sacred Lomi offers a synthesis of ancient techniques and universal principles that support transformation and healing.
There are many different styles of Lomi Lomi massage. Sacred Lomi uses flowing forearm massage, presence, prayer, aloha, breath-work and sacred touch to offer a space of unconditional love and acceptance.
Aka`aka Loko I Ka Ike A Ke Aloha ~ The secrets within me are seen through love
Now Available Hawaiian Healing Intention Cards

These beautiful cards come with 44 Healing Insights and Intentions designed to bring the power of intention to your life and healing practice.

$24.00 / deck
Sacred Lomi is rooted in the lineage of Kahu Abraham Kawai'i and integrates other lineages that support you to live a life of aloha and thrive in your massage or healing profession and in your life. This work is sometimes called Temple Style Lomi, Hawaiian Temple Bodywork or Kahuna Bodywork.
The flowing forearm massage techniques save your hands and protect your body. The shamanic principles and energetic awareness support you to take care of yourself and deepen your capacity to facilitate healing for your clients.  Ho'oponopono, breath work, presence and aloha cultivate alignment with the physical, energetic and spiritual bodies.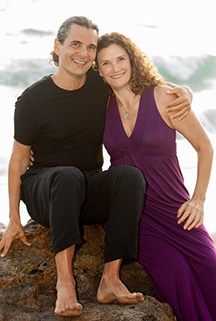 Lomi Lomi Massage Courses are taught with a heart-centered approach to healing – teaching practitionershow to create and hold a safe and sacred space for themselves and their clients.
Tom Cochran and Donna Jason have developed Sacred Lomi as a healing art designed to empower the individual to heal themselves first and then offer that healing to others.
Beyond Traditional Massage, Sacred Lomi is taught with a deep understanding that we are each far more than our physical bodies and that our lives and our influence extend far beyond our knowing.
Each member of our 'ohana nui learns to be a portal of light – bringing more love and understanding to our collective home called earth.