Learn Sacred Lomi Massage
Three Day Lomi Lomi Workshops
In our Three Day Sacred Lomi Workshops you will learn lomi lomi massage with all of the fundamental runs of Sacred Lomi. In addition to learning the physical runs, you will experience exercises that cultivate your intuitive gifts and teach you both self care and care for your client. You will learn transformational principles that can support you in all aspects of your life. You'll leave the workshop with a profound repertoire of tools and  techniques that will support you and your practice in life-changing ways. Earns 24 NCBTMB CE's and 24 CE's in most States
This was the single best thing I ever did for myself and my clients!  Joshua B.,
Spa Lomi Lomi Workshops
The only way the Spa Lomi Lomi Workshop differs from any other of our Lomi Lomi Massage Courses is that we spend a little extra time discussing draping techniques for the spa environment as well as how to stay inspired as a healer in more corporate environments.
Four Day Lomi Lomi Workshops
The advantage of a Four Day Lomi Lomi Massage Course is that 90% of the 'teaching' occurs on the first three days of the course. The  fourth day is dedicated to integrating the practice and supporting you to both receive and offer full lomi lomi sessions without the interruption of learning new techniques. This fourth day makes a profound difference in your confidence to leave the course and offer lomi lomi. That said, due to the economy we are choosing to offer more three day courses to make it easier for students to attend.  Earns 32 NCBTMB CE's and 32 CE's in most States
Thank you so much for all of the love, beauty, wisdom and knowledge that you share so openly.  It really could not have been better.   Valerie N., Colorado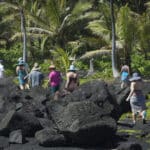 Hawaii Retreats are life-changing, rejuvenating and educational. They teach the same techniques and principles as the three and four day lomi lomi classes while offering an opportunity to step away from your everyday life and experience the magical land and culture of Hawaii. Taught at Kalani Oceanside Retreat on the Big Island of Hawaii, the retreats are designed to not only teach you this beautiful modality, they are designed to help you transform your life and practice to more authentically support your heart and soul. With access to twenty acres of gorgeous tropical land full, hot tub, swimming pool and ocean cliffs, you will sink into the rain forest, heal and cleanse on levels beyond your imagination. The retreat includes three healthy, incredible meals each day plus accommodations and training. You will also have the opportunity to practice and receive lomi lomi far more than in our three and four day workshops as well as learn hula and other 'extra' activities. This is truly a life-changing experience. Earns 48 NCBTMB CE's and 48 CE's in most States
"I am so grateful to the two of you. You both are doing such great work. I am transformed!!!" Susan, LMT – Chicago
Advanced Practice Retreat
Our Advanced Practice Retreats offer students the opportunity to receive, learn, play, explore and transform with other skilled and advanced practitioners. We always weave deep life-changing themes into the retreats that are designed to support and uplift students lives. The Sacred Lomi 'Ohana is International and students who experience the Advanced Retreats gain a network of like-hearted souls all around the world. The Wildwood Advanced Retreat is open to those who have completed at least three days of training with Sacred Lomi. The North Carolina Advanced Retreat is open to those who have completed at least the Home Study Course or a Three Day Training with Sacred Lomi.
Teacher Training
Although we have offered a teacher training course in the past, we currently encourage students who are interested in teaching to speak with us directly about the possibility of apprenticing at our workshops. We have found that apprenticing is the most direct way to learn how to offer this sacred art to others.
Ho'oponopono • Hawaiian Peacemaking
Ho'oponopono is the profound practice of cultivating peace in your being and in your relationships. Through lecture, prayers, interactive exercises and guided movement, the ho'oponopono courses teach you how to cultivate forgiveness for yourself, your family, your ancestry, your finances and your health. Read more…