Getting to Hawaii – Lomi Lomi Retreat

Aloha
Sacred Lomi's Lomi Lomi Retreat in Hawaii is held on the Big Island of Hawaii once a year. This is some information that may be helpful in planning your trip.


It is usually best to arrive on the island of Hawaii for the Retreat a day or two early just to 'get there' and get over jet lag before the retreat begins. Often participants stay for at least a few days after if they can, exploring other parts of the island or even other islands.
The island of Hawaii is the largest of the Hawaiian islands and there is much to explore from Black Sand Beaches, Waipio Valley, the City of Refuge, the Volcano, Lava Tubes, Visiting with the Whales, Dolphins, Turtles, Steam vents. The list goes on.
Lomi Lomi Retreat Hawaii is a life changing, heart-opening experience.
You can arrive at Kalani Retreat Center, in the late afternoon between 2pm and 4pm.
The check in time at the retreat center is 4pm the day the retreat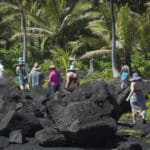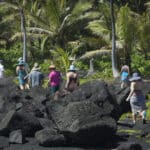 begins, so your room will definitely be ready at 4pm.
We will begin the at 5pm in the Rainbow Room.
We will have dinner about 6:30 that evening.
We hope to see you there in February!
On the last day of the workshop, we will finish our closing circle by noon and then have lunch until about 1:30.
Many Blessings
Tom & Donna
Getting to The Big Island
Flying to the island of Hawaii you have two choices of airports:
Travel Services
Airlines / Frequent Flyer Programs
Car Rental
Directions to Kalani Oceanside Retreat
Kalani Oceanside Retreat
Kalani Oceanside Retreat is located in the district of Puna on the island of Hawaii – also known as "the Big Island". Kalani is on the Southeast Coast of the island in Kehena, very close to the town of Pahoa and 45 minutes from Hilo and the Hilo Airport (ITO). Kalani is about 2 to 3 hours from Kona, on the opposite side of the island.
Toll Free US & Canada: 1-800-800-6886 • Worldwide: 808-965-7828 • Main Office: 808-965-0468
Email: kalani@kalani.com
Additional Travel Links / Hotels • Bed & Breakfasts
Hawaii's Visitors Bureau • Big Island Trip Planner • Hawaii Island Bed & Breakfast Association • Volcano Lodging Directory • Big Island's Best B&B's • Aloha Cottages • Vacation Rentals by Owner
Information About The Big Island
We recommend arriving a day or two early and planning some time on the island after the workshop to integrate your experience before rushing back to 'normal' life.
If you have any additional questions, feel free to
contact us
.